Hairart Hair Wrap 6" - The Grays
SKU: HAES6-1B30
HairArt
Extensions
27 In Stock
GET BETTER BUNS~ Finally a Hair Wrap (luxury hair "scrunchie") made with 100% European Hair!  Create instant styles from sleek, trendy up-dos to casual tousled styles, ADD INSTANT VOLUME~ Get BIGGER BUNS. Non synthetic, 100% human hair can be colored, highlighted or balayaged to match your hair or wig! Learn more about...
GET BETTER BUNS~
Finally a Hair Wrap (luxury hair "scrunchie") made with 100% European Hair! 
Create instant styles from sleek, trendy up-dos to casual tousled styles, ADD INSTANT VOLUME~ Get BIGGER BUNS.
Non synthetic, 100% human hair can be colored, highlighted or balayaged to match your hair or wig!
Learn more about HairWrap Care How-tos Here
• Comes in 6, or 8 inches, (Inches = How long the hair used in the wrap is.)
Learn more about HairWrap Sizes / Lengths Here
Disclaimer: The color chart pictures are pictures of the actual hair wraps in natural light. We do our best to provide the clearest most accurate pictures however colors may appear different on different device screens.  Please use these pictures for reference only. 
 RETURNS / EXCHANGES: We absolutely can't and don't resell wraps that have been used on a person's hair for legal and ethical reasons. Once the tag has been removed, color exchanges can't be done so please color match OFF your hair and only remove the tag if you aren't planning to exchange your hair wrap.
Also comes in Non grays too:
See Dani talk about these and show how to use HairArt 100% human hair wraps at the 9 minute mark
Shipping Rates and Times
The shipping rates available to you are determined by the contents of your order and your shipping address. The Checkout page will display the shipping methods and corresponding rates available to you before you complete your order.
Contiguous U.S.:
Flat-rate of $9.95 on orders up to $149.99
Or weight based calculated weights for special classes of shipping (express, first class, second day etc)
Order totals over $150 gets FREE SHIPPING 
All other U.S. domestic shipping is a flat-rate of $12.95.
Non U.S. destinations:
Canada:
Please read Canada / Non-US shipping related updated pandemic shipping issues here:
https://hairartproducts.com/blogs/uncategorized/usps-covid-delays-to-canada-overseas
We are adding locations and will sometimes be able to ship to salons in other countries not listed if the billing address and shipping address are both a salon or educational center abroad, contact us if you'd like to ship to a country not on this list.
Ground transit times, contiguous U.S. (days given in BUSINESS DAYS meaning Saturday and Sunday don't count towards number of days to destination).
Order Processing
All orders received before 1 p.m. PST are processed the same day. Orders will ship out within 1 - 72 hours of purchase, if you order at 3 p.m. on a Friday, it won't go out until Monday.

Shipping Confirmation Emails
Our systems will send you an automated shipment confirmation email with tracking details once your order has been shipped.
Our shipping carriers do not pick up packages from our facilities on weekends, or on postal holidays.
If you place an order after our order processing deadline, you may experience a delay between your shipping confirmation e-mail and the actual shipment of your order. The time-frame for the shipment method you selected will begin when the carrier picks it up for delivery.

Shipping Carriers
Orders placed with standard flat rate shipping may be shipped with any of our carriers: US Postal Service, UPS, or FedEx.

Weekend Delivery
We are unable to arrange weekend deliveries for UPS, USPS orders may arrive Saturdays.
All shipping and processing times listed on our website are in business days (Monday-Friday, excluding all national holidays). Some of our shipping carriers occasionally deliver orders sent via standard shipping on Saturdays, but this service cannot be requested or guaranteed.
Cancelling an order we've already shipped
Once a package leaves out facility, it's in the hands of the carrier, and we're not in control of when your order will reach you, they are. We do our best to use reliable shipping, but issues arise.
If the shipping is taking too long and you're thinking about canceling / having us intercept the package, here are the details for the process:
OPTION ONE: Send the package back to us at your cost once it reaches you and we will refund you the item cost MINUS any shipping costs not covered by your shipping fee once it arrives back it new condition.
OPTION TWO: Ask us to request an INTERCEPT. USPS will charge us $13.95 and any additional shipping, and we will deduct those costs as well as any additional shipping costs not covered by your initial shipping fee from the item once the carrier returns it to us..
IMPORTANT!! We charge a basic flat-rate shipping. We almost always pay more than that for shipping. We will charge you the difference between what you paid for shipping, and what it actually cost us so we aren't making a loss on the shipped  cancelled order. Covering the additional shipping is a service we provide to our paying customers, and as much as we'd love to as a service to you, we simply can't take losses on transactions like these where a full refund is involved.
International Shipments
Delivery time for international packages vary widely depending on Country, Customs, Carrier and Method of Shipment. We usually ship international orders within 48-72 hours.
Shipments outside of the U.S. may be subject to fees such as "import customs fees" which include Customs, Duties, Taxes, Broker Fees and other similar fees. These "fees" are typically collected by the shipping carrier in your area, and are not part of our shipping charges.
Please contact your local carriers and customs department to learn more about these fees. You, the importer, will be responsible for all "fees" which may be imposed by your country's customs laws including but not limited to duties, taxes, brokerage fees and other fees that may apply at the time package is delivered to you.
Please contact us for more information and an estimated time of arrival to your destination.
Or, if you would like to specify a carrier in particular, contact us in advance before we process and ship out your order. 
Methods of payment for international shipping include Paypal and wire transfer and require pre-payment.
Customer Reviews
07/02/2020
Liz B.
United States
I recommend this product
Beautiful gray that matches me perfectly...
I love that Hair Art has come out with the Grays now! I've stopped coloring my hair and now can finally wear a bun. My hair is so thin, that my ponytail is non-existent let alone my bun. With this add on, I can rock a great look.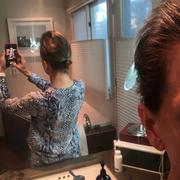 07/03/2020
HairArt Int'l Inc.
Looks amazing!! Glad you love it :)
05/02/2020
Dawn N.
United States
I recommend this product
Order
Still waiting. Upset that it's taken so long . If I receive it then I may fill out a better review
05/05/2020
HairArt Int'l Inc.
Hello Dawn, you've been very patient and kind. I don't know why the first order got lost, but I've asked them to resend next day if they haven't already. We didn't do well by you and are very sorry for the inconvenience.